Over the years I have run through the gamut of wearable devices and I have an old electronics drawer filled with the evidence; a few Fitbit Trackers and Ultras that didn't fall off and get lost somewhere, three generations of Nike Fuel Bands, a Garmin Vivosmart and a few I can't even remember. Yes, I have been a workout data collection geek for several decades.
I like the accountability of a wearable activity tracker with smart features and feel a bit undressed without one in some form or another. Also, if I go out without one and go for a run or walk, it is sort of like not getting credit for the work. But, finding the right one, particularly within the shifting range of capabilities of wearables over time has been a challenge.
After having gone through a similar routine with Bluetooth headsets and settling for the last two years on the Jawbone Era as the thing that lives my ear whenever I am not at my desk, I took a look at the Jawbone "Up". (Yes, the Era is awesome and the best way to consume podcasts while walking in Manhattan or cycling. And the convenient charging case can keep multiple Eras charged throughout the day.) I figured that if they did a good job with the Era they might be on to something with the Up… and I had read several articles on how the app associated with the Up was pretty cool.
What sold me on it as a possible wearable was their newest feature available with the Up 4 Tracker, and that is its ability to be used as a payment device associated with an American Express card. Yes, you can link your Amex card with the band and just swipe it close to any "contactless payment" device. Here is an article in Mobile Payment Magazine http://mobilepaymentmagazine.com/jawbone-amex-mobile-payment#more-4335 and a photo from their site on how it is used: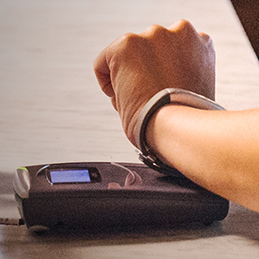 Just look for this and you are good to pay with a simple swipe:
So, I purchased a Jawbone Up4 tracker https://jawbone.com/store/buy/up4 and have been using it now for almost a month. Finally, a wearable that gives me what I want and doesn't duplicate anything else (like my Garmin 620 running watch for running or my Samsung Galaxy Live watch for work.)
OK, so it does the expected stuff like keeping track of how many steps you take and can give you little reminders when you have been sitting on your ass for too long. Most all of the wearables can do that.  But, there are two specific areas in which this little device really pays off; a) in giving me some good longitudinal data on my resting heart rate; b) keeping me cognizant of my sleep patterns and time spent in different stages of sleep. In these two areas I am now getting data that has helped me to improve my overall health and fitness.
I haven't been honest with myself about sleep over the years. It seems unfair that you are only alive for so many hours in a lifetime and you have to spend extended periods each day with your eyes closed and mostly unconscious. I fooled myself over the years that I could get by trimming a little off both ends of sleep, staying up a little while longer each day to watch some John Stewart and then then getting up before dawn to grab an hour at the computer dealing with colleagues awake in Europe and reading the extraordinary PressReader Replica Edition of the New York Times on desktop. (This has nothing to do with the Up, but it is a great way to read the newspaper each morning.)
But recent studies have rather conclusively shown that there are some real physiological benefits to a full dose of sleep each night, as beneficial as all of the other things that we do right during waking hours (yoga with some mindfulness thrown in, good diet, aerobic exercise with some doses of anaerobic hammering.) I fooled myself in thinking that I was getting more sleep than I was, probably averaging about five and a half to six hours a day. But, given that I'm traveling internationally about 40% of the time, I should be taking better care of my sleep while I am at home.
With the Up tracker I triple-tap the device as I get ready to sleep and choose the blue icon, which starts the device monitoring my various stages of sleep. Then, when I get out of bed in the morning I repeat the process, choosing the little yellow guy as I start my day. Soon the device will sync with my Samsung Galaxy S5 and I'll get this feedback on my phone:
So, it gives me data… and data I can work with. It told me that last night it took me five minutes to fall sleep and that my sleep was pretty well balanced: about two hours of deep sleep, two hours and forty-two minutes of REM sleep and about the same amount of light sleep. The app reports how well I did in comparison to my goal (six and a half hours, increasing to a goal of seven hours a night this week) and my resting heart rate (more on this later.)
I can see (above) how I did the last week, just falling short of my goal, only surpassing my goal three out of seven nights. Something to work on and easily monitored on the app.
It will also give me my resting heart rate during the night (maybe I could have stopped drinking coffee a little earlier in the day) and my goal and average versus how much I slept each night over the past week. This is really good data and information I can use to make better decisions about when to get to bed and when to wake up each day. Do I really need to watch that TV program or should I just turn off the lights and get to sleep? Is checking my email at 5:00 am to see if a donor has responded all that important? (Probably not.) Feedback affects behavior and the Up gives me what I need to see how much I am really sleeping.
Inside the Up there are several sensing electrodes that give the software feedback. According to Jawbone the sensors measure:
Bioimpedance - Resting Heart Rate, Respiration Rate, and Galvanic Skin Response
Accelerometer
Skin temperature
Ambient temperature
Maybe in the future they will give more feedback data on other parts of the data gathered by the bioimpedance sensors, but for the meantime I really like the resting heart rate measurements. Jawbone says that the measurement is done just before rising each day and for me the longitudinal data is interesting.
Last month, after two months of touring, I was feeling a bit out of shape. As counterintuitive as it may seem, sometimes long, multi-day bike tours can have a de-training affect. Of course, you train for the events and go into the tours in top shape so that they are enjoyable and not dreary slogfests. But, if I am going to climb about 2000 meters over 100 kilometers in a day, I am not going to get my heart rate much into Zone 3: Tempo and hardly ever into Threshold (146-159) and never into Aerobic Capacity (above 160.)
This is a five-hour ride climbing in the Blue Ridge Parkway two months ago. It was a long grueling day but I kept my average heart rate to 125 and never more than 148. It was a lovely day of cycling.
So, in essence, for the two weeks cycling through North Carolina and Virginia and then the two weeks in Colorado last month, I was de-training, basically getting out of shape while touring.
But, when I got back home to NYC and while waiting for my bike to arrive by Fedex Ground, I cycled indoors for a week, turning myself inside out at Flywheel on 60th Street in Midtown Manhattan. While I have never gotten into or understood power dynamics in the boudoir, there is something strangely motivating about the setting of a spin studio, and I'm pleasantly brought to some really high heart rate totals while being yelled at by the right spin instructor for forty-three minutes surrounded by a great sound system blasting good tunes.
Those spin classes and then back in Central Park, riding High Intensity Interval Training (HIIT) workouts, have gotten my heart rate up into Zone 5 for extended periods each day. These are great workouts for stressing the training response, building up the mitochondria density and increasing red blood cell count, blood volume and all those lovely benefits of high aerobic and some anaerobic training.
And, one of the signs of really high level fitness is the resting heart rate. And, the Up tracking system and app are great at tracking this.
This is the kind of data that I really like to see! Over the last two weeks, I have good evidence that my resting heart rate has dropped from about 58 down to consistently 47 bpm. It shows what I had suspected when I traveled from Colorado back to New York on 23 July…. I was a bit out of shape! This resting heart rate trend over the last two weeks would show the benefits of training over the last three weeks, reflecting the fact that it takes from two to three weeks to begin registering the changes at the cellular level, as the body reacts to hard work by increasing the number and density of mitochondria and making more red blood cells.
Finally the app and data play well with others, integrating with some of the software that I like. The Up app gets data from Strava, so it collects the workouts that I log through Garmin Connect  I'm trying to figure out the right food/diet/weight app to use with it.
So, I'm liking the Up Activity Tracker. Stylish, no flashing lights like the Garmin Vivosmart, good app with useful data and integrations with other programs. The only drawback is that it doesn't give you much credit for cycling, unable to sense that you are working hard on a bicycle. If I could suggest a feature, it would be the ability to tell the device, through the app, that you are starting a bike ride and when you finish, triggering the algorithm that interprets the data from the sensors that the device should be registering as if the wearer is on a bicycle and working out. That would be a cool feature.