While I was in grad school, a couple of decades ago, I had bad fall from a horse at our family ranch in Huntsville, Texas and was having trouble sitting at the computer. Struggling with a way to work on my master's thesis and transcribe notes from the recordings of my classes, it occurred to me that I was really only comfortable flat on my back. Looking carefully at my computer, monitor and keyboard I realized that there was really no good reason that a computer had to sit on the top of a desk. We were desk-bound really only as a result of the use of two previously popular writing instruments, the pen/paper and typewriter. Both of these required us to use a flat surface, either for applying ink to paper or to support a heavy typewriter However, as the typewriter morphed into a word processor and eventually into a personal computer, we remained seated at the same old desk.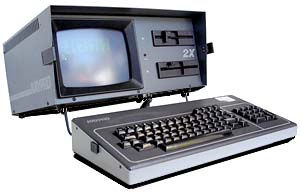 So, in 1985, out of painful necessity more than design, I moved my old Kaypro into a bookshelf next to my La-Z-Boy recliner, angled the unit so that I could see the screen and began working with the keyboard on my lap. No back problems and I found that I could spend many more hours working without pain. As my injury healed, I found no compelling reason to work anywhere else in the apartment. Finally, in 2000, after working from a reclined position for about fifteen years, I realized that I hadn't sat down at my desk in months and sent it off to storage. I've been computing exclusively from my big chair ever since.
Over the years, I have worn out two recliners and progressed from the Kaypro's CPM operating system to DOS, Windows 1.0-3.5,  NT, 2000, XP, Vista and now Vista x64. The monitor moved from the bookshelf next to the chair and on to a reticulated arm and my desktop has grown from the 8" Kaypro screen to more than a square meter of pixelated acreage . At one point I had an IBM keyboard with a "track point" (red dot) mouse, but eventually moved to a Logitech Trackman Wheel. And the processors have gone from 286, through 386, to dual processors to quad processors. And certainly bandwidth has increased from none, to the early Kaypro 300 baud modem telephone coupler, to dial-up, through ISDN to today's huge 20mbps pipeline to the backbone.
The keyboard rests on the padded armrest when I am not in the chair, and easily moves over to my lap for typing. The "marble" mouse means that I don't have to use a mousepad and the Trackman easily sits on the other armrest. With the articulating monitor arms, I can sit upright or even recline all the way back and position the monitor directly above me in the chair. It is a very, very comfortable work space.
This last week, my new La-Z-Boy recliner arrived, as well as an additional 30" monitor and new LCD monitor arm. With these additions, I think that my set-up has reached an evolved state of computing comfort, worthy of a posting to the blog. Here is the ultimate lounge chair computer setup:
Computer: The system is a Mini PC Shuttle XPC SP35P2 with 8 GB of DDR2-800 RAM and an Intel Core 2 Extreme QX6850 Quad Core processor (3.00 GHz), running Windows Vista 64 Ultimate. The primary hard drive is a Seagate SATA 500 GB Barracuda with a second, faster SATA Maxtor MaxLine Plus II 7Y250MO. This system is using the Intel 1GB Turbo Memory Internal PCIe Mini-card and has a Philips SPD70000BD Blu-ray DVD burner.
Monitors: I'm using three monitors configured as a single extended desktop. My primary monitor is a 30" Samsung SyncMaster 305T Plus at 2560 x 1600 resolution. My second monitor is a Samsung SyncMaster 243T and the third is a SyncMaster 242MP with HDTV. The monitors are all run off of two NVIDIA GeForce video cards, a 8800 GT and a GeForce 6200.
Reticulating Monitor Arms: Two of the monitors are mounted on Innovative 7500 Series Flat Panel Articulating Arms that are mounted on the desktops to the left and right of the lounge chair.
Keyboard and Mouse: The keyboard is a Microsoft Ergonomic Keyboard and the mouse is a Logitech Trackman mouse.
Camera: My video camera for web conferencing is a Creative Live! Cam Optia AF #4, mounted on the top of my big SyncMaster monitor.
Headset: Ear Force HPA2 5.1 Surround Sound Headphones
HDTV: Tivo HD DVR, connected to the Samsung SyncMaster 242MP, with a picture-in-picture HTDV screen embedded in the Vista desktop. So, I can keep MSNBC live or the Daily Show recorded in Tivo in a little window.
Over the years, my boys have taken to calling it the "command center" and both friends and co-workers "oooh" and "aahh" over what a great space it is from which to work. It is such a pleasurable space, both in terms of computing/connectivity and ergonometric comfort that I'm happy spending up to 18 hours a day here. In fact, if I am not on my bike or traveling, you can find me in this chair most of the time.